The world's no1 distributed commerce platform
" It's been developed based on strong shopper and customer insight and its execution has been absolutely first class."
Radha R, Executive Vice President and Industry Head – Retail, CPG and Manufacturing, Mindtree
Radha R, Executive Vice President and Industry Head – Retail, CPG and Manufacturing, Mindtree, said: "Constant Commerce's platform stood out for the judges because it has the ability to really drive change in ecommerce. It's been developed based on strong shopper and customer insight and its execution has been absolutely first class.
"Thanks to its straightforward interface, transferable content and great technology, Constant Commerce ticks the boxes for shoppers, retailers and manufacturers, creating a smooth and seamless experience all around.
"This platform could also easily be rolled out to other industries, demonstrating just how good the technology is."
from: http://www.igd.com/
Constant Commerce is a startup that makes content, ads and apps shoppable at the world's biggest supermarkets and mainstream retailers, is today celebrating winning IGD's e-commerce award. Presented at the 2014 awards ceremony in London last night, Constant Commerce won the award for their platform which connects food, beauty, parenting and health content at major media outlets and on social media platforms to retailers' ecommerce and loyalty solutions.
Constant Commerce's innovative technologies were identified as 'the online sales platform that has most significantly improved customers' shopping experience' by the judges, helping the company claim the top spot in the e-commerce category.
Although Constant Commerce was founded less than three years ago, it has rapidly grown to become the world's number one distributed commerce platform, with more than 20 well-known retailers, consumer packaged good manufacturers and media companies using its tools to create ecommerce, data and shopper-engagement partnerships.
Constant Commerce manages distributed commerce solutions for 10 of the world's biggest retailers, letting them embed mini-shopping experiences in websites, apps, ads and social media. Brands and publishers can use the tools to push the products that are featured in their advertising and content to shoppers' online baskets. The platform can also push promotions and offers to individual shopper's phones via its retail partner's apps. Shoppers can then shop the offers in-store to earn rewards, loyalty points or cash back.
The technology works behind the scenes – shoppers are never aware of Constant Commerce's technologies, they just enjoy a seamless transition from their favorite websites and apps to shopper interfaces that are run on behalf of their favorite retailers.
The technology is especially powerful when embedded in advertising – Constant Commerce powered advertising is personalised whenever it's served to the millions of shoppers that have interacted with the platform to date, showing pricing and availability for the shoppers' preferred retailer and letting them add product to their online basket or to the list in their phone, according to the way they've shopped in the past. This personalisation is the main factor behind the advertisings exceptionally high performance against benchmarks.
Johnathan Agnes, Constant Commerce co-founder, said:
"We were extremely proud to have been shortlisted for the IGD e-commerce award and thrilled to learn that we've won it. In the last year the company has grown more than tenfold and as we prepare for more rapid growth in the year ahead, it's great to have received the recognition of such an important industry award."
The company, founded by Johnathan Agnes, has seen rapid growth recently and counts the biggest US, Australian and UK supermarkets among its customers, as well as several major global brands and publishers. Its Chairman is global brand strategist Matthew Freud and it has the backing of a team of high-profile technology entrepreneurs including Hercules Fisherman Co-founder- investor, Innovation Lead was founding CTO of Fizzback, Russell Buckley, who now advises the UK Government on inward investment in technology startups, Betfair founder Andrew Black and joined also by Fizzback founding CEO Rob Keve.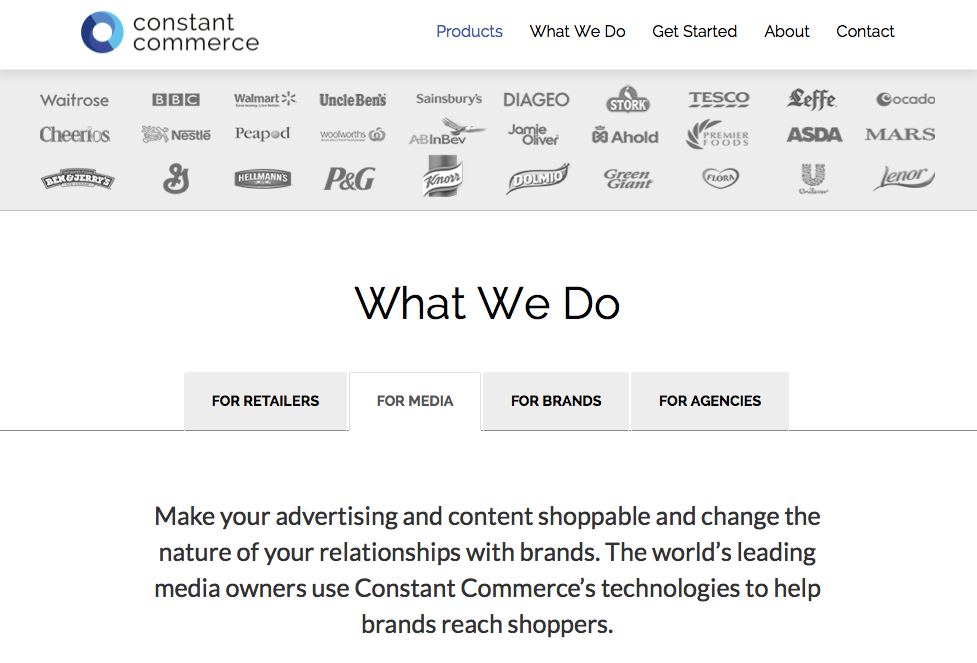 One of UKs best example of how startups can work well, having an stellar success in a short time, made possible by having the best of Biz and Devs working cohesively under one roof, building world class products.
related links
https://www.linkedin.com/pulse/article/20141009101417-43066621-constant-commerce-wins-e-commerce-category-at-the-2014-igd-awards-with-its-shoppable-ad-technology
Facebook
https://www.facebook.com/constantcommerce
Hercules Fisherman will be speaking at the Websummit 2014 early next month, he is a resident mentor at Bathtub2Boardroom in the city and works with a number of other accelerators such as Axel Springer Pnp and Founders Institute groups internationally.