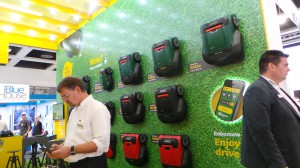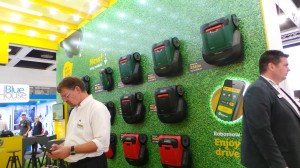 the shape of things to come the robotic mowers
I just returned back from my latest visit to Berlin it was yet another mammoth expo, prehpas on a scale not as big as the MWC (Barcelona) but nevertheless significant and covered almost everything in electronics and home appliances.
Most of the buzz was around curved displays, many of them with  large 50+ inch screens and the colour quality quite magnificent, plenty to get engaged for game playing and home theaters. Although it the base screens probably all made by one manufacturer; then packaged and branded for different companies. I imagine the price also fluctuate between them likewise.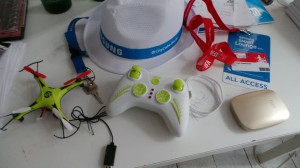 Further more you did sense that the second and third generation of robotic mowers and hoovers are becoming quite ever present, I must have come across 20+ stands who had robotic vacuum cleaners of different descriptions.  Another hot areas are in home automation and remote controls. Gone are the days of hackers concocting arduino based zegbee contraptions for hackatons. The age of robotics finally has arrived.
The robotics, sensors & home automation has gone main stream.
This space is going to hot up over the next few years and there is much innovations to be done in this space to make these appliances more useful and accessible to all.
Then there was the summit which was focused on future implications of the technology, discussions surrounded areas that are important to people in sustainability, ecology, economics, 3dprinting.  That important take away from inspirational speech by  Jeremy Rifkin was that we are increasingly becoming "prosumers" meaning we produce and consume our own creations. Thus in the future we would be intervening in the productions the level of customization will increase, there are already cars that are being 3dprinted allowing greater control over the output as ever before, it is no longer intervention in the types of trimming you want for your vehicle but also ability to modify its chassis or its internal structures like adjusting the seat design and shape so it would be the perfect fit for your physiology.
The IFA+Summit website describes:
The conference gave insights into the "connected future" of High Tech, product development and design. Latest business models and break-through startups were presented in consideration of a changing consumer and media behaviour.
Each session was introduced by national and international speakers and combined fascinating short talks by experts that have been followed by discussions to deepen consumers understanding.
Here is some video excerpts from the event definitely worth checking