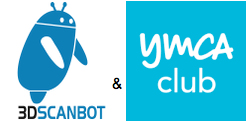 PRESENT
A UNIQUE Valentine Treat at the Tottenham Court YMCA
Collect your personalised Gifts
Figurines, Jewellery, Medallions , Charms
and Rings
Weekdays   from Monday 2nd Feb to 14th Feb
Sessions:   12 am to 2 pm
6 pm to 8 pm
At
YMCA Club 112 Great Russell Street, London, WC1B 3NQ – Tottenham Court Road Tube
YMCA Club is the largest gym facility in central London and the world's founding YMCA, is the UK's leading health, fitness and education charity.
The 3dscanbot Experience
Ready to scan you and your valentine.
Impress the one you love with something different, an exceptional gift  incorporating their own bespoke 3d model.
Print them as figurines or  as bespoke  pieces of jewelry.  We can create earrings,  medallions and rings in Valentine themes,  printed to your spec in bronze, silver or gold finish.
We are a new exciting technology-oriented company with plenty of fun and fresh ideas in our specialist field of 3D scanning and printing.
We showcase 3D scanning to a wider audience by bringing something very different to every one of our events. Guests are invited to step into our 3D scanning zone and watch as a 3D image of them quickly takes shape on a large screen.
Our team then explains how a 3D scan can be turned into a real life printed figurine and provide advice on other possible solutions. Scans are available for instantly shareable downloads. Our processes are also iPhone & Android friendly. Indeed, every participant gets to take something away with them.
Our debut Showcase at YMCA Londons Biggest Fitness Centre is a great chance to explore the possibilities for applications of 3d scanning in health and beauty.
Come and take part in the 3DScanbot Experience
3DScanbot  attracts large crowds, draws a high volume of footfall, and is very appealing to diverse audiences. Our stands have ranked amongst the most popular at recent innovative technology events including Campus Party O2, AdTech London, Over the Air and eCommerce Expo Olympia.
Please find our logo & official images attached to the press pack.
The 3d printing is performed in collaboration with Makertribe

Facebook: 3DScanbot  Twitter: @3DScanbot
for further information and press please contact
Mobile:  07799641948
Steve Motakef
Email: events@3dscanbot.com