The Family
http://www.nationalgallery.org.uk/whats-on/exhibitions/vienna
This exhibition is the testament of the magical power of art, even in the darkest moment in life, art is the shining light that reflects on the human conditions, which illuminates the path to salvation.
Egon Schiele in his last days of his life looks on bewildered, puzzled and dismayed for the turn of events as his wife, their unborn child and eventually himself where about to succumb to tragic tuberculosis epidemic at the time. He represents his unborn child as a gift-wrapped doll in a clownish attire, it's a divine comedy in the intolerable sadness of circumstances.
Yet his envisioned twisted figures, hands and portraits remain iconic, a miracle, even though sadly he did not survive much longer than his 27th,  his work continues to shine bright.  There were other academics and artist of the Vienna period, but few matched the excellence demonstrated by Gustav Klimt, Egon Schiele or Oskar Kokoschka they were amongst the vanguards despite the hardship and some of the extreme tragedies that was being experienced in their time.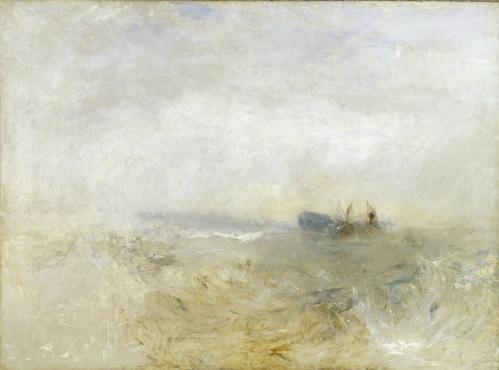 http://www.rmg.co.uk/whats-on/events/turner-and-the-sea
Turner is another visionary painter with mastery of lights, his impressionist works executed decades before impressionism even coined and recognized as a late 19th century art movement.
His late work both exquisite watercolor sketches or massive monochrome canvases are as important monument as Sistine chapel mastery, they define a mysterious vision of light, of divinity that emanates out of the dark, murky tumultuous raging watery vortex.
There is a Zen like calmness that rings from each stroke of paint upon the canvas, this resonate through expanses of times across three centuries that no doubt will continue on for millennia.